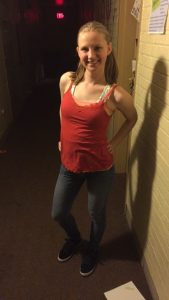 Friday night we had a middle school themed party where we listened to middle school throwbacks and, you guessed it, dressed how we did in middle school.
I went for the more subtle but still totally middle school look of layered camisoles with a pair of jeans and sneakers. A peach, yellow, and red cami layered one over the other is definitely not something I would wear now but at least it isn't quite as outlandish as some of the other outfits I used to throw together. For an additional middle school effect I pulled my hair back into two pig tails behind my head.
Overall I think I pulled off the middle school look.