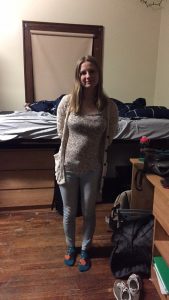 Last night was Springfest, an outdoor music event I ended up not even staying at for very long.
Since I was planning on going, though, I tried to dress accordingly in the morning. I knew I would get chilly standing outside in the late evening so I chose a cute, but long sleeved, cotton shirt. For extra warmth I added my beige sweater. Since the look I was going for was a little more spring-y I chose my light jeans over regular blue jeans. And appropriate for Wooster, I had on my squirrel socks.
Most of this was not visible, though, due to my needing to wear a coat by the time the event came around.